What: Fordham Auto Radio
Where: Bronx NY – intersection of Warning Ave and White Plains Rd (?)
When:August 2001
Details: Thoughtful submission from my cousin Suzanne and her husband Ray (then living in the NYC area where they both do this amazingly brilliant bio research).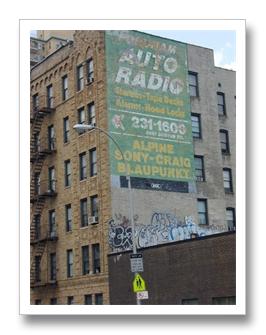 The place the ad mentions – Fordham Auto Radio is still around according to a Goggle search. Or at least recently. And this ad is a great example of the genre in a modern sense. You could probably date the sign: no area code needed (for 10 digit dialing)… car tape "decks"… no mention of CDs… Craig stereos…
Craig stereos? These were standard in Deloreans it seems. Craig stereos were powered by a Flux Capacitor therefore making them more desirable and so listed ahead of Blaupunkt which is a funny word anyway. Still, Blaupunkt outlasted Craig as a market player which in turn outlasted the Delorean. Sony produced the first car CD player in 1984. Craig washed up before 1997. So make a guess on this sign's age…
I like the arrow next to the phone number… hope is just around the corner it seems. And the graffiti only serves to reinforce the  need for the Hood Locks they peddle around here. Hood locks in the hood.
This space was tagged by Mack signs (see the plaque sign below the ad). They also painted it along with many others in the area. There a story there somewhere.
Anyway – thanks again 'Cuz!
COMMENTS / 4 COMMENTS
SPEAK / ADD YOUR COMMENT
Comments are moderated.