What: Ratcliffe Florist building
Where: 400 block of South Tryon Street – Charlotte, NC
When:17 March 2001
Source: Detail of photo taken with a Sony DSC-505
Details: Just felt a need to share this ghost ad if not for the history – for the wonderful L. Frank Baum-ish typeface.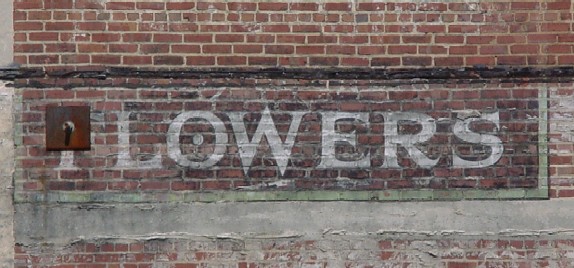 The side of the Ratcliffe Florist building. At some time in the past another building was built alongside (over the ad) and preserved the ad – preserved until a reinforcing rod went through the 'F'. The ad is on the side of the Mediterranean Revival style building – the building is about 72 years old.
It is rare for Charlotte to spare old downtown buildings from the wrecking ball but in this case the building was moved across the street until a parking garage is completed 'under' its former site. This picture is the side of the building as it sits across the street from it's former site. The building was moved back and and a modern building built around it. So the ghost ad again disappears from sight.
Here is a link to a little of the building's history as well as a photo of the building's elevation as it was in it's original spot: http://www.cmhpf.org/S&RR/ratcliffe.html.
I think the bay window tucked under the arch is contemporary. In the building's life as a [really good] restaurant the bay window served as a fun spot to sit while dining.
BROWSE / IN

Charlotte Ghost Ads
COMMENTS / 2 COMMENTS
SPEAK / ADD YOUR COMMENT
Comments are moderated.